UConn Income Tax School, 2020 (Cancelled)
The 29th UConn Income Tax School has been cancelled due to COVID-19. Please see the attached letter
with more information.
---
UConn Income Tax School, 2019
The 28th UConn Income Tax School, organized by Dr.Emma Bojinova, with the assistance of Claire Bazzano will be held at the Four Points by Sheraton, 275 Research Parkway, Meriden, CT, on November 13-14, 2019. More information coming soon!
---
Leonardo DiCaprio Foundation included an article by Zwick Center Postdoctoral Fellow 
Rebecca Boehm published an article in the Leonardo Dicaprio Foundation website discussing U.S. household food purchasing and the large part it plays in contributing to greenhouse gas emissions.
---
The ARE Department  Welcomes New Faculty 
Assistant Professor Sandro Steinbach, the newest faculty member of the Department of Agricultural and Resource Economics,  was  featured in Naturally@UConn . 
---
ARE undergraduate student is awarded the best presentation
Shaina Stamp, a CAHNR student studying in a summer program abroad at the Mediterranean Agribusiness School in Spain, was awarded the best final project presentation in her class for her marketing and communications. 
---
ARE undergraduate student at  COP24
ARE student Risa Lewis was selected for COP24 by a 12-member UConn@COP Organizing Committee. COP24 is the acronym for the 24th Conference of the Parties to the United Nations Framework Convention on Climate Change (UNFCCC). Previous conferences in Bonn, Germany and Paris, France. This year's event  will take place from December 3-14, 2018, in Katowice, Poland. 
---
Dr.Boehm was cited in The Washington Post
Rebecca Boehm was cited in The Washington Post in an article published on Monday, June 11th, 2018, in an article entitled: The U.S. Diet is a Climate Disaster. Here are Four  Easy Fixes.  The article is about average American household diets, and how consumers can make changes in personal lifestyle habits to help limit the greenhouse gas emissions caused by food production and transportation, with suggestions and research by Boehm. The full article can be found here. She was also cited in another article in Daily Science.
---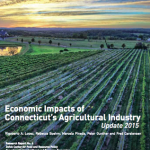 Economic Impacts of Connecticut's Agricultural Industry: Update 2015
The Zwick Center for Food and Resource Policy Invites you to the release of latest numbers on the contribution of agricultural sectors to the Connecticut economy, including statewide sales, jobs, wages, and non-traditional impacts. Comparisons to the 2010 study, identifying rising and declining sectors.
Please see the latest report here.
---