Internship and Job Opening
Legislative Internship Program: Now Accepting Applications Spring 2019: offer Connecticut college students the opportunity to gain first-hand knowledge about how state government works through hands-on experience in the Connecticut General Assembly.Students will learn the formal and informal aspects of the legislative process, and will be provided with opportunities for training and academic examination. Deadline November 1st. Learn More Here
 National Association of State Departments of Agriculture – International Trade Programs Internship is seeking highly motivated students who are interested in learning more about marketing and promotional activities in international export markets for U.S. agricultural products and commodities.  Spring 2019, Fall 2019. Learn More Here
Environmental Studies Coordinator: Full-Time, 10-Month, Exempt, Salaried, Administrative Staff Appointment.  The Colby College Environmental Studies (ES) program is seeking an environmental studies coordinator beginning October, 2018. The position reports to the director of the Environmental Studies program. Learn more here
Openings in the UConn Spring Valley Student Farm for Spring 2019: located 4.5 miles off campus. If you're interested in organic food production, supporting equitable food systems, intentional community living, promoting healthy sustainable lifestyles, etc. Learn More Here
---
Boris E. Bravo-Ureta presented his research at the 2018 IAAE conference in Vancouver
Professor.Bravo-Ureta presented his research on assessing farm performance in Malawi, Tanzania, and Uganda at the 2018 IAAE conference in Vancouver.  Findings suggest that access to agricultural input markets improves the productivity of small farms, while greater spending on transportation infrastructure and extension services enhances the productivity of large farms. His USDA-ERS project were featured in the World Bank LSMS Facebook page found here. 
---
ARE student is awarded the best presentation
Shaina Stamp, a CAHNR student studying in a summer program abroad at the Mediterranean Agribusiness School in Spain, was awarded the best final project presentation in her class for her marketing and communications. The department congratulates Shaina on her hard work and recognition.
---
ARE undergraduate student at  COP24
ARE Undergrad Risa Lewis was selected for COP24 by a 12-member UConn@COP Organizing Committee, to be officially announced by the Office of Environmental Programs. COP24 is the acronym for the 24th Conference of the Parties to the United Nations Framework Convention on Climate Change (UNFCCC). Previous conferences in Bonn, Germany and Paris, France. This year's event seeks to coordinate full implementation of the Paris Climate Agreement. COP24 will take place from December 3-14, 2018, in Katowice, Poland. We congratulate her selection.
---
Dr.Boehm was cited in The Washington Post
Rebecca Boehm was cited in The Washington Post in an article published on Monday, June 11th, 2018, in an article entitled: The U.S. Diet is a Climate Disaster. Here are Four  Easy Fixes.  The article is about average American household diets, and how consumers can make changes in personal lifestyle habits to help limit the greenhouse gas emissions caused by food production and transportation, with suggestions and research by Boehm. The full article can be found here. She was also cited in another article in Daily Science.
---
Dr.Bovay's Presentation at the 2017 Educational Micro Sessions
Professor John Bovay presented at the 2017 Educational Micro Sessions hosted of the New York PRODUCE Show and Conference. The title of his presentation was "GMO and Non-GMO Food Labels: Implications of the New Federal Law for Growers, Marketers, and Consumers."
---
ARE faculty appointed as advisory board member at Florida A&M University
Professor Boris Bravo-Ureta has been appointed to the Advisory Board of the Agribusiness Program at the College of Agriculture and Food Sciences (CAFS) at Florida A&M University. He will serve from November 2017 to September 2019.
---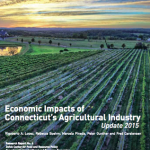 Economic Impacts of Connecticut's Agricultural Industry: Update 2015
The Zwick Center for Food and Resource Policy Invites you to the release of latest numbers on the contribution of agricultural sectors to the Connecticut economy, including statewide sales, jobs, wages, and non-traditional impacts. Comparisons to the 2010 study, identifying rising and declining sectors.
Please see the latest report here.
---