In 2010, alumnus Charles J. Zwick donated $1 million to the University of Connecticut's Department of Agricultural and Resource Economics and the Food Marketing Policy Center.  His generous gift expanded the mission of the Center to include economic and policy studies on energy, food policy and health, natural resource economics and land use, and agriculture. In recognition of this tremendous gift, and the broadened mandate, the  Center was renamed the Zwick Center for Food and Resource Policy.
Born in 1926, Charles Zwick grew up on a farm in rural Plantsville Connecticut. He completed his bachelor's and master's degrees at the University of Connecticut, Phi Beta Kappa, in 1950 and 1951 in agricultural economics, and then taught as a lecturer at UConn in 1951. He then attended Harvard University, where he completed his Ph.D. in economics in 1954. Charles was a professor at Harvard University from 1954-1956. He then worked as Head of Logistics at the RAND Corporation from 1956-1963, where he focused on research, especially on economic assistance and military programs in Southeast Asia.
He was a member of the U.S. Bureau of the Budget (now the Office of Management and Budget) from 1965-1968 and Director from 1968-1969 under President Johnson's Administration. He has the distinction of being the only Director to balance the federal budget (until the Clinton Administration) under the financial pressure of Johnson's Great Society programs to eliminate poverty and racial injustice in the 1960s and the Vietnam War.
The photos below show Dr. Zwick working with President Lyndon B. Johnson during his time as Director of the U.S. Bureau of the Budget from 1968-1969.
After leaving government services, Dr. Zwick served as President and Chief Executive Officer, and Chairman of the Board of Southeast Banking Corporation until his retirement in 1991. At the Southeast Banking Corporation he oversaw its expansion through the peaks and valleys of Florida's economy for 22 years.
President Jimmy Carter asked him to chair the President's Commission on Military Compensation in 1977 to review pay, retirement, and military benefits. He was co-author of the so-called "Zwick Report," a legislatively-mandated report for Florida government with ideas for the state to keep up with the exponential growth Florida saw in the late 1980s.
He is a past member or trustee of many corporate and nonprofit boards, including the RAND Corporation, the University of Miami, MasterCard International, Inc, and United Way of Miami-Dade, Inc.
Charlie Zwick passed away peacefully at his home in Coral Gables, Florida, on April 20, 2018. His parting wish was to "stay positive and be optimistic!"  In his New York Times Obituary, he was remembered as the architect of the only surplus generated by the federal budget from 1960, the last full year of the Eisenhower administration, to 1998, under President Bill Clinton. "It was not cutting expenditures," Mr. Zwick recalled in 2000 in an oral history interview with the University of Florida history department. "It was growing revenues that really balanced the budget."
Charles Zwick with President Johnson
Charles Zwick with President Johnson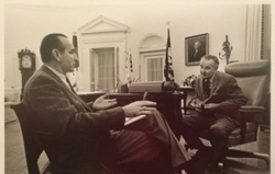 Charles J. Zwick