Hearing from Connecticut Farms of All Sizes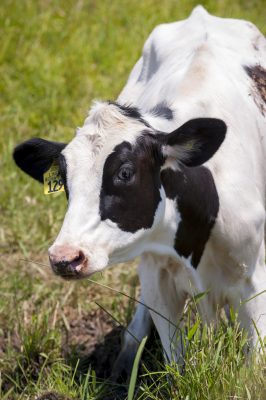 All of Connecticut's dairy farms are encouraged to respond to the Connecticut Cost of Dairy Production Survey, an important report which is used to calculate dairy farm viability payments under the Community Investment Act.
The results of this survey will provide up to date data that reflects the current realities of dairy production for Connecticut farms of all sizes. We realize that our first attempt at this survey last summer caused confusion; we used your feedback to revise and improve the survey to include better explanations, instructions, adds components, while deleting others. Your feedback and generosity with your time will help to ensure that the outcomes can best inform farmers, state agencies, and other stakeholders.
With combined responses provided by dairy farms, UConn's Zwick Center for Food and Resource Policy will be able to:
Implement an updated method to estimate the average cost of production for a hundredweight of milk in Connecticut
Replace data collected as part of the last survey in 2010, allowing the most current production methods and costs to be used
Quickly generate reports on various aspects of dairy production, including but not limited to business planning, crop management, nutrient management, dairy nutrition, and others
Differentiate the cost of production in Connecticut versus the northeast and other regions, and among farms of varying sizes within Connecticut
Accurately portray the cost of business for dairy farmers in Connecticut and your role in the state's agricultural economy
Here are examples of how other universities and states developed reports and resources for stakeholders based on data gathered from dairy farms. There are many ways to highlight the dairy industry and each state is very different. These reports should give a general idea of what we can accomplish here in Connecticut, providing we accumulate enough information from our dairy producers: 
This survey is long and can take several hours to complete. Read through our FAQ's below to make sure you have all the information you need on hand, this will help reduce the time it takes to complete. If need be, your best estimate will do.  You can save your responses and return to complete the survey at another time. The survey can be completed online or on a paper copy.  We're here for you, call us with anything you need.
Contact
If you have questions or need assistance completing the survey, we are here to help.
Richard Meinert: richard.meinert@uconn.edu
Alyssa McDonnell: alyssa.mcdonnell@uconn.edu
Thank You
We know farmers in our state are busy. Thank you for taking the time to provide this critical information to provide an accurate, up to date picture of the cost and realities of dairy production on Connecticut farms of all sizes.
The Connecticut Department of Agriculture has contracted with the University of Connecticut Zwick Center for Food and Resource Policy to conduct this survey.
Helpful Hints!
Here are some tips that could help you finish your survey quickly:
All information should be 2019 information.
Pages 4 and 5 are the same as the milk reports Agrimark and DFA send. You are welcome to print those reports and include them in your complete packet. There is also an option to upload them in the online survey.
Reach out to fertilizer, feed, and chemical companies you make purchases from. They keep records of the quantities you've bought in past years.
If you don't have specific categories- look to see if there's a "total" option
Give your best estimate of values!
Remember we're here to help! We're happy to go through the survey and answer questions line by line.

Call Alyssa McDonnell (860)-992-7550 to ask questions, or set up a time to go over the whole survey
Frequently Asked Questions
Is the online version the same as the survey I received in the mail?
Yes, please only complete one.
Can I save the online version and return to it?
Yes, use the same computer you started on and your place will be saved.
What do I do if I don't have my unique identifier code?
If you lost your code or did not receive one, please contact Alyssa McDonnell:
Email: alyssa.mcdonnell@uconn.edu  Phone: (860)-992-7550
I would like to complete a paper version, but do not have a copy- what should I do?
If you lost your paper copy of the survey or did not receive one, please contact Alyssa McDonnell to get a new one:
Email: alyssa.mcdonnell@uconn.edu     Phone: (860)-992-7550
How much time will this take to complete?
Depending on which information you have readily available, this could take several hours. If you choose to fill in the questionnaire online, or on paper, you can leave and come back as needed.
Who will see my answers?
Your information will be protected. Only our research team will see your answers. Only the unique farm identifier code will be used to determine which questionnaires have and have not been returned. Your personal and contact information will NOT be stored with the questionnaire.
Why are you asking questions additional to costs and quantities?
Another goal is to report on the farming practices used and problems facing dairy farmers in the state.
What information will I need?
You have most of the information on your tax returns.
| | |
| --- | --- |
| 2019 Farm Tax Return | 2019 List of capital items sold |
| 2019 Farm Depreciation Schedule | 2019 List of prepaid items purchased for use in 2020 |
| 2019 List of capital items purchased | 2018 List of prepaid items purchased for use in 2019 |
| 2019 Farm Inventory (if you have one) | 2019 Milk Production (including components) & Income records |
Who should fill this out?
Someone familiar with the financial and management records of the farm. For the opinion portion at the end of the questionnaire, we ask that an owner answers these questions to represent the farm.
I still have questions, who should I contact?
If you have any questions as you work through the questionnaire, please contact:
Richard Meinert- Email: richard.meinert@uconn.edu or Phone: 860-626-6857
Alyssa McDonnell- Email: alyssa.mcdonnell@uconn.edu or Phone (available until 9PM): 860-992-7550